Regular Price:

$35.21
Sale Price:

$25.00
1 reviews
5.0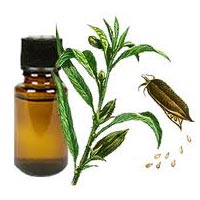 100% Natural and Pure Sesame Seed Oil
Sesame Seed Oil
Weight

Price

Sale Price

Add to Cart

100ml./ 3.520oz

$35.21

$25.00

250ml./ 8.799oz

$45.07

$32.00

500ml./ 17.598oz

$56.34

$40.00

1000ml./ 35.195oz

$98.59

$70.00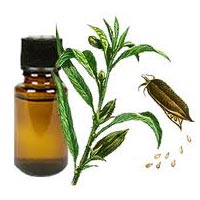 Sesame Seed Oil
Botanical Name:
Sesamum indicum
More Essential Products
Botanical Name
Sesamum indicum
Method of Extraction
Cold Pressed Method.
Part Of Plant Used
Sesame seeds.
Application
It is widely used as a natural moisturizer.
Strength & Aromatic scent
Distinct seed aroma.
Color
Light brown to brown in color.
Blends Well With
Most of the essential oils including jojoba, olive, rosemary, jasmine and many more.
History
Archaeological studies have revealed that sesame seed oil was produced 3000 years ago in Persia and India. However, some people believed that it was first introduced in Africa and later it was introduced to India and China.
Precautions
It is advisable that pregnant women and nursing mothers should consult an expert before using this oil.
Our therapeutic-grade sesame seed oil is derived through an extensive cold pressed method from the pure sesame seeds. It is a light brown to brown color liquid with distinct seed aroma. This oil is naturally active with high content of minerals, vitamins A & E and vital proteins. Apart from this, it is widely used in the preparation of natural cosmetics, body care products and provides a potent base for several massage blends.
Promotes Healthy, Beautiful and Radiant Skin: This oil is highly enriched with zinc, a vital mineral required for producing collagen resulting supple and smooth skin. Even researches have shown that zinc effectively repairs damaged tissues in the body.
Maintains a Healthy Heart: It contains sesamol, a potent anti-inflammatory and antioxidant compound which are highly beneficial in battling heart diseases and atherosclerosis.
Keeps Bone Strong: High content of calcium and zinc in this oil makes it a powerful remedy to combat osteoporosis.
Sesame carrier oil is great
I am a fixed customer of this site. I always order all the essential oils from this site only. Recently, I ordered 10 liters of sesame carrier oil and as always, the delivery was very quick. I received the oil within 4 days. I sometimes get amazed that how this company manages to deliver the product right from India to USA in 4 days? It's simply amazing and fantastic.