Regular Price:

$42.67
Sale Price:

$32.00
1 reviews
5.0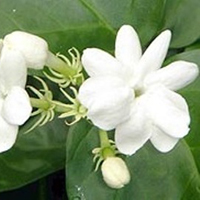 100% Natural and Pure Jasmine absolute
Jasmine absolute
Weight

Price

Sale Price

Add to Cart

15ml./ 0.528oz

$42.67

$32.00

30ml./ 1.056oz

$77.33

$58.00

50ml./ 1.760oz

$126.67

$95.00

100ml./ 3.520oz

$253.33

$190.00

250ml./ 8.799oz

$648.00

$486.00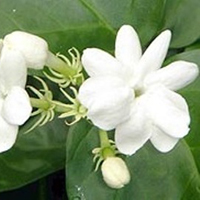 Jasmine absolute
Botanical Name:
Jasminum Grandiflorum
More Essential Products
Botanical Name
Jasminum Grandiflorum
Method of Extraction
Solvent extraction.
Part Of Plant Used
Flowers of jasmine.
Application
Jasmine absolute is widely used in aromatheraphy, perfumery and for treating health distresses like cold & cough.
Strength & Aromatic scent
Rich floral fragrance with warm undertones.
Color
Reddish brown liquid.
Blends Well With
Jasmine absolute blends with bergamot, grapefruit, rose, sandalwood and other oils.
History
Since ancient times, Jasmine absolute is being used in perfumery and incense making.
Precautions
Pregnant women, nursing mothers and children should avoid using this oil. One must take medical advice before using this oil.
Jasmine absolute is extracted from the flowers of Jasmine, a climbing shrub through solvent extraction method. The extraction process of this absolute is carried out at low temperatures to yield fragrance similar to that of a delicate jasmine flower. Jasmine absolute is referred to as the 'King of Oils' since it is a precious oil and has immensely potent abilities to relieve mental and physical exhaustion. Thus, it is highly demanded in aromatherapy.
Perfumery: - For its soothing and pleasing floral fragrance, jasmine absolute is widely used in perfumery and in the making of incense sticks.
Aromatherapy: - Aroma therapists extensively use jasmine absolute in different aromatherapy treatments for its calming effects. It effectively relaxes the body & soul.
Aphrodisiac: -Jasmine absolute is widely appreciated for treating sexual problems like lack of libido, frigidity, impotency or other related problems.
Medicinal uses: - This absolute effectively cures headache, skin irritation and menstrual problems. It also cures severe depression, cough and cold.