Regular Price:

$50.70
Sale Price:

$36.00
1 reviews
5.0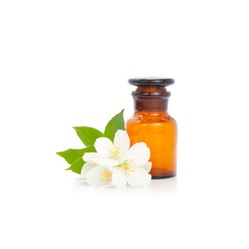 100% Natural and Pure Jasmine Grandiflorum Absolute Oil
Jasmine Grandiflorum Absolute Oil
Weight

Price

Sale Price

Add to Cart

15ml./ 0.528oz

$50.70

$36.00

30ml./ 1.056oz

$92.96

$66.00

50ml./ 1.760oz

$153.52

$109.00

100ml./ 3.520oz

$302.82

$215.00

250ml./ 8.799oz

$753.52

$535.00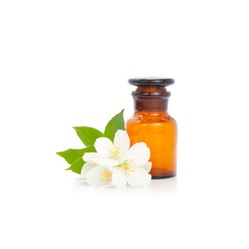 Jasmine Grandiflorum Absolute Oil
Botanical Name:
Jasminum Grandiflorum
More Essential Products
Botanical Name
Jasminum Grandiflorum
Method of Extraction
The method used for its extraction is the solvent extraction.
Part Of Plant Used
To extract it, flowers of Jasmine Grandiflorum are utilized.
Origin
It has originated from India.
Application
It is used in the treatment of breast cancer and malignant tumors in the lymph nodes.
Strength & Aromatic scent
It has smooth and extremely intense floral aroma.
Color
It is a light reddish to brown liquid.
Blends Well With
It blends well with all oils and tends to work mainly with other aphrodisiac oils like sandalwood and Ylang Ylang.
History
Since ancient times, Jasmine has been considered as the King of oils (Rose is the Queen).
Precautions
Woman during their pregnancy phase should seek proper medical advice before using this oil.
Jasmine Grandiflorum Absolute Oil is extracted from the flowers of Jasmine Grandiflorum by the solvent extraction method. Jasminum grandiflorum is recognized by several names such as Chameli, Royal jasmine and Catalonian jasmine. It is a species of jasmine native to South Asia. In India, the leaves of Jasminum grandiflorum are enormously used in Ayurvedic herbal medicine while the flowers are used to decorate the coiffure of women. Flower of this plant is widely used in Buddhist and Hindu temples in abundance. It is a deciduous shrub that grows up to the height of 2–4 m tall. Jasmine Grandiflorum Absolute Oil has great medicinal properties and widely used in the treatment of skin related problems, labor pain, migraine and wounds. Due to its intense floral aroma, it is widely used to treat the problem of stress and anxiety. Since ancient times, it is used in the Indian Ayurvedic medicines and Chinese medicines.
This absolute oil is highly effective in the treatment of ulcer, cancer, labor pain, migraine, wounds, skin infections, paralysis, flatulence and many other problems.
The decoction derived from the leaves of Jasmine Grandiflora is used in the traditional Ayurvedic medicine, for treating venomous snake bite, toothache and poisonous insect stings.
It is highly effective in alleviating depression and promoting relaxation.
It is also used in the Chinese Medicine as an effective aphrodisiac.
It is widely used in treating reproductive problems, respiratory problems, insomnia, skin ailments and as a support during child birth and menstrual difficulties.