Regular Price:

$6.94
Sale Price:

$5.00
0 reviews
0.0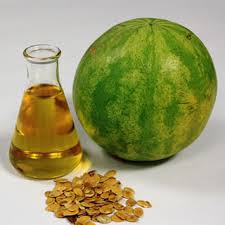 100% Natural and Pure Watermelon seed oil
Watermelon seed oil
Weight

Price

Sale Price

Add to Cart

100ml./ 3.520oz

$6.94

$5.00

250ml./ 8.799oz

$16.67

$12.00

500ml./ 17.598oz

$30.56

$22.00

1000ml./ 35.195oz

$58.33

$42.00

2000ml./ 70.390oz

$111.11

$80.00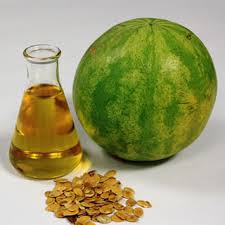 Watermelon seed oil
Botanical Name:
Citrullus Vulgaris.
More Essential Products
Botanical Name
Citrullus Vulgaris.
Method of Extraction
Cold pressed.
Part Of Plant Used
Dried seeds.
Application
It is used in the formulation of creams, lotions, soaps and eye creams.
Strength & Aromatic scent
Faint, slightly nutty aroma.
Color
Yellow color liquid.
Blends Well With
Most of the essential and carrier oils.
History
Historians trace the origin of watermelon to the Kalahari Desert of Africa. Further, they moved to north through Egypt and were prized in Roman era.
Precautions
Pregnant women and nursing mothers should seek proper medical consultation from an expert before using this oil.
Watermelon seed oil is also known as kalahari oil and ootanga oil. It is derived through cold pressed method from the dried seeds of the watermelon (Citrullus vulgaris) having high nutritive content. The seeds of watermelon are highly enriched with unsaturated fatty acids like linoleic and oleic acids, essential proteins, vitamin B, niacin, folate and lots of minerals such as magnesium, potassium, manganese, iron, zinc, phosphorus and copper. In Africa, watermelon seeds are notable for the nutritive oil that they contain. Traditionally, seeds of watermelon are removed from the rind and then allowed to dry in the sun. Once the seeds are dried, they are cold pressed to extract this miraculous oil.
Hair Care: Watermelon seed oil is rich in omega fatty acids that promote healthy growth of hair. A Regular massage with this oil keeps hair healthy and lustrous. It is non-greasy in nature thus easy to apply to hair. Its antimicrobial property prevents scalp problems like dandruff, lice and lice eggs.
Skin Care: This oil quickly absorbed into the skin and provides indispensable fatty acids which are vital for skin growth. It makes the skin beauty, soft, supple and radiant. This oil works effectively against acne which is often caused by skin pore clogging.