Regular Price:

$43.84
Sale Price:

$32.00
1 reviews
5.0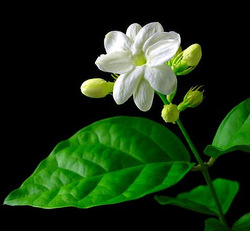 100% Natural and Pure Jasmine Sambac Absolute Oil
Jasmine Sambac Absolute Oil
Weight

Price

Sale Price

Add to Cart

15ml./ 0.528oz

$43.84

$32.00

30ml./ 1.056oz

$79.45

$58.00

50ml./ 1.760oz

$131.51

$96.00

100ml./ 3.520oz

$261.64

$191.00

250ml./ 8.799oz

$650.68

$475.00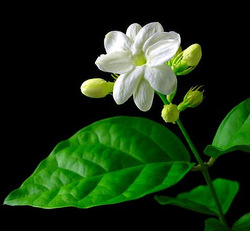 Jasmine Sambac Absolute Oil
Botanical Name:
Jasminum sambac
More Essential Products
Botanical Name
Jasminum sambac
Method of Extraction
The method used for its extraction is the solvent extraction method.
Part Of Plant Used
To extract it, flowers of Jasminum sambac are utilized.
Origin
It has originated from India.
Application
It is used to arouse sensuality and eroticism.
Strength & Aromatic scent
It has an intense aroma that is very floral yet musky.
Color
It is a dark brown to yellowish colored liquid.
Blends Well With
It blends well with bergamot essential oil, frankincense essential oil, orange essential oil, geranium essential oil, palmarosa essential oil, rose essential oil and sandalwood essential oil.
History
Since ancient times, Greeks and Egyptians are using jasmine oil as a stimulant and aphrodisiac.
Precautions
Pregnant woman and nursing mother should seek proper medical advice before using this oil.
Jasmine Sambac Absolute Oil is extracted from the flowers of Jasminum sambac by the solvent extraction method. It is a species of jasmine native to South and Southeast Asia. Jasminum sambac is classified under the genus Jasminum and belongs to the family of Oleaceae. It is a vine or small shrub that grows up to the height of 0.5 to 3 m (1.6 to 9.8 ft). It is widely cultivated due to its attractive and aromatic flowers. In English Jasminum sambac is known as Arabian jasmine, In Philippines it is known as sampaguita whereas in Indonesia it is known as melati putih. It has great antiseptic properties due to which it is widely used to treat minor cuts and wounds. Due to its intense floral yet musky aroma, it is extensively used to eliminate stress and anxiety.
Antiseptic: It is effective in treating cuts, sores, itching and wounds. It does not allow your wounds and cuts to become septic.
Antidepressant: This absolute oil helps in combating with depression to a great extent and provides relief from mental fatigue, tiredness, stress, apprehension and nervous ailments.
This absolute oil is used as a herbal remedy for fever, diarrhea, abdominal distention, fractures and swelling of the eyes and sprains.