Regular Price:

$19.74
Sale Price:

$15.00
2 reviews
5.0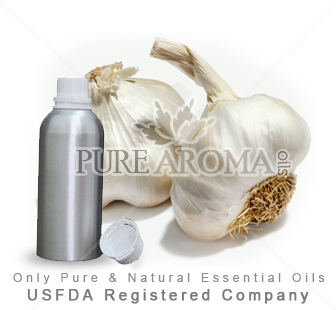 100% Natural and Pure Garlic oil
Garlic oil
Weight

Price

Sale Price

Add to Cart

50ml./ 1.760oz

$19.74

$15.00

100ml./ 3.520oz

$38.16

$29.00

250ml./ 8.799oz

$85.53

$65.00

500ml./ 17.598oz

$156.58

$119.00

1000ml./ 35.195oz

$301.32

$229.00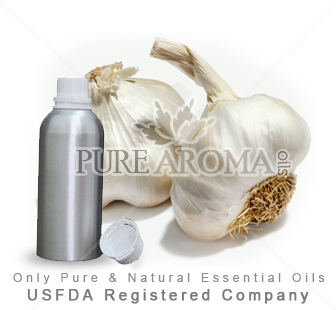 Garlic oil
Botanical Name:
Allium sativum
More Essential Products
Botanical Name
Allium sativum
Method of Extraction
Steam Distillation.
Part Of Plant Used
Bulbs of Allium sativum.
Application
It is used to treat infections and to enhance the taste of various delicacies.
Strength & Aromatic scent
Strong and Pungent Aroma.
Color
Yellow colored liquid with a tinge of orange.
Blends Well With
Garlic oil blends well with sour creams and cream cheese.
History
Garlic has a history of 7000 years and was used in Asia and in Mediterranean regions for both medicinal and culinary purposes. It was also used for protection against evil.
Precautions
Pregnant ladies should seek proper medical advice before using this oil.
Garlic oil is extracted from the bulbs of Allium sativum through the process of steam distillation method. Garlic has been used by the people for more than 7,000 years. It was highly used by the Greeks and Egyptians in the ancient times. It is also used to control blood pressure, for the treatment of all the types of cancer and is very helpful in maintaining cardiac health. This oil is also used for culinary purposes.
To know more about this Garlic oil you can visit here:
https://en.wikipedia.org/wiki/Garlic
http://healthpsych.psy.vanderbilt.edu/2009/Garlic.htm
Cures Cold and Cough: Garlic oil keeps the body warm and gives instant relief in the cold and cough.
Controls Blood Pressure: This oil is very effective in controlling high blood pressure. Regular usage of this oil keeps the blood pressure in check.
Prevent Cancer: Garlic oil is considered great to prevent cancer. Since it has allyl sulfur in it, thus garlic oil used to treat stomach cancer, pancreatic cancer, prostate cancer and other forms of cancers too.
Culinary Uses: Garlic oil is used as one of the important ingredients in the preparation of many dishes. It adds a unique flavor to the food and makes the dish tastier and delicious.
Treats Heart Diseases: It is considered best to suppress the level of bad cholesterol. It can contribute in reducing the triglyceride level which helps in maintaining the complete health.
level which helps in maintaining the complete health.
Controls blood pressure
It works best in controlling the high blood pressure. I have used garlic oil and can claim it to be the most effective oil for controlling high blood pressure.

Good for Curing Cough and Cold
Thanks to Pure Aroma Oils for delivering Garlic Oil on time and for the quality that you gave to me. This oil has always proved to be extremely helpful for me when it comes to cure cough and cold. I am surprised to see its positive outcomes in the least possible time. I will recommend it to everybody!! Keep spreading the power of natural oils to others.