Regular Price:

$33.78
Sale Price:

$25.00
1 reviews
5.0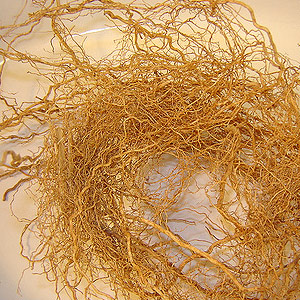 100% Natural and Pure Vetiver Absolute/ Ruhkhus (Green) Oil
Vetiver Absolute/ Ruhkhus (Green) Oil
Weight

Price

Sale Price

Add to Cart

15ml./ 0.528oz

$33.78

$25.00

30ml./ 1.056oz

$59.46

$44.00

50ml./ 1.760oz

$97.30

$72.00

100ml./ 3.520oz

$193.24

$143.00

250ml./ 8.799oz

$472.97

$350.00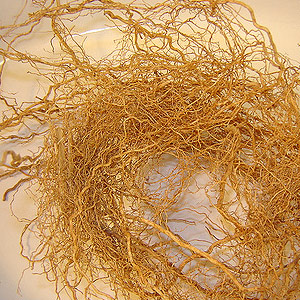 Vetiver Absolute/ Ruhkhus (Green) Oil
Botanical Name:
Vetiveraia Zizanoides
More Essential Products
Botanical Name
Vetiveraia Zizanoides
Method of Extraction
Steam distillation is the method used to extract this absolute oil.
Part Of Plant Used
It is derived from the roots of Vetiver.
Origin
It is native to India.
Application
This absolute oil comprises the wonderful therapeutic properties which are helpful in treating the ailments like nervous tension, arthritis, insomnia, pain, etc.
Strength & Aromatic scent
It has woody odor.
Color
It is a clear viscous liquid having a yellow brown color.
Blends Well With
This absolute oil blends well with other oils like clary sage, Bergamot, litsea cubeba, black pepper, eucalyptus citriodora, coriander, cassie, ginger, grapefruit, geranium, lavender, lemon, jasmine and many more.
History
The tribal people used the paste of Vetiver roots for curing the snake bite, sprains, scorpion sting, burn etc. It is also used for treating the malaria fever.
Precautions
Pregnant women and nursing mother should avoid using this absolute oil with the medical guidance of experts
The Vetiver Absolute/ Ruhkhus Oil is also famous by the name of "Oil if tranquility" due to its wonderful cooling and soothing effects. It is extracted from the roots of Vetiver which is also popular by another name of Khas Khas. It is a tall wild grass having a narrow leaves with white, brown and yellow roots which is known for its soothing and calming properties. This grass mainly grows well on the riverbanks and swampy oil. In Indian rural area, the strong roots of vetiver are also used for making of mats, baskets and hand fans. This absolute oil enriched with the great therapeutic properties which includes antispasmodic, antiseptic, anti-parasitic, tonic, nervine, rubefacient, depurative, stimulant (circulatory, production of red corpuscles), emmenagogue, sedative, vermifuge.
It is very beneficial in providing the relief from the ailments like headaches, fever, boils, mouth ulcer, aches & pains, sprains, wounds, rheumatism, arthritis etc.
Due to its amazing soothing and relaxing properties, it is extensively used in aromatherapy techniques to cure the myriad health problems such as anxiety, mental stress, insomnia, depression, etc.
It is also good for the skin and alleviates the skin ailments like acne, cuts, wounds, rashes, scars and Oily skin. The absolute oil is used as a fixative & base ingredients in the formulation of soaps, perfumery soaks, cosmetics.
Skin problem
My cousin was suffering from a skin problem therefore she was consistently searching for the natural way to cure it. One of her friends told her about Vetiver Absolute oil so she placed an order from this site. She used it for one week and it magically eliminated her skin ailments.